Nano-Tech 9060
 is manufactured using nano-ceramic technology, one of the world's most advanced technologies in material sciences, which utilize smaller than microscopic particles as building blocks. This makes it possible to create extremely capable high performance films to the most exact and demanding specifications.
Each nano-ceramic particle in Nano-Tech is only 10nm* in length. Its diameter is two to three hundredth smaller than the wavelengths of visible light, making the film virtually colorless and extremely transparent.
The ultra-fine particles give the film the incredible dexterity of rejecting and transmitting only selected rays in the electromagnetic spectrum. Thus, Nano-Tech offers an unprecedented level of total solar heat rejection without compromising on clarity and visibility.

It is this revolutionary technology that sets Nano-Tech window films apart as the gold standard for the ultimate in sun protection.
Clarity and Heat Rejection
Nano -Tech 9060 Ultra Clear Film is the clearest nano-ceramic window film on the market today. No other film matches its visual clarity and high visible light transmission. This film allows 73% visible light transmission, while blocking out 94% of the sun's infrared heat.
* Exceptional IR Heat Shielding
* 73% Visible Light Transmittance (Industry Leader)
* 99% UV Radiation Rejection SPF-200
* 92%-96% IR Heat Rejection
* 69% Total Solar Energy Rejected
* Highest Clarity
* No Distortion
This film has a PHOTO-CHROMIC effect. The longer exposed to the sun, the higher the heat rejection.
This same technology has also recently been incorporated into customized German Super Luxury Cars.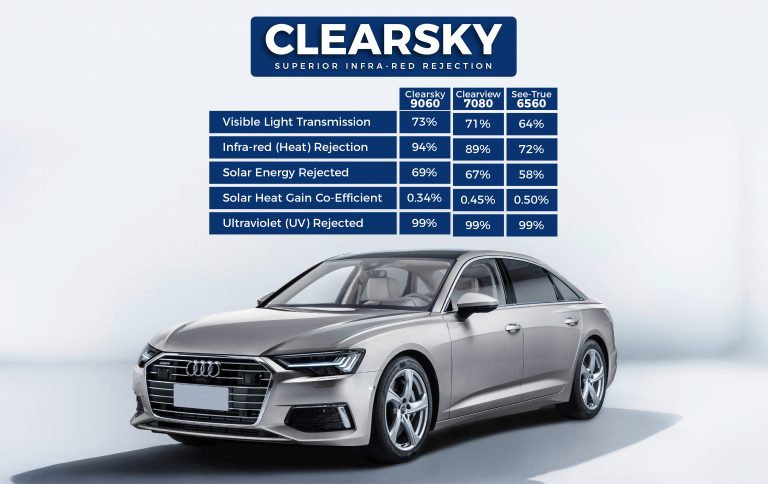 Price:
S.R.P. Nano Tech Clearsky 9060 - 10 years warranty. Made in Japan. 96% heat rejection.

S.R.P. NanoTech Clearview 7080 - 5 years warranty. Made in Japan. 89% heat rejection.
S.R.P. Nano-Tech See-True 6560, 5 years warranty. Made in Japan. 72% heat rejection.
Features :
Nano Ceramic Construction – a long-lasting film with a sophisticated appearance
Solar Heat Rejection – superior solar heat/infrared ray rejection
Signal Friendly – non-conductive, compatible with GPS and radio signal devices
Cuts Down On Hazardous Glare – provides a more comfortable driving experience
Blocks 99% of Harmful UV Rays – reduces interior fading and protects your skin & eyes
CST™ Scratch-Resistant Hardcoat – better durability, protection, and clarity
Backed by Nano-Tech's Comprehensive 5-10 years Manufacturer's Warranty Program